Porcelain Dental Crowns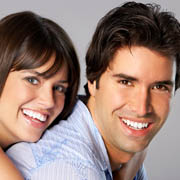 Porcelain dental crowns are essentially caps that fit over damaged teeth to improve their appearance and protect them from further damage. Our Los Angeles porcelain crowns expert may use crowns when teeth have suffered major tooth decay or been broken by physical trauma. While metal crowns may be used on rear teeth, which are rarely seen by others, porcelain crowns are normally used on front teeth to support a natural-looking smile.


Porcelain crowns offer all of the advantages of dental crowns and are superior to metal crowns in several ways. When porcelain crowns are placed on existing teeth, they offer protection from hard foods and continued decay. Because our expert in porcelain crowns in Los Angeles tints and shapes porcelain crowns to make them look natural, patients often have significant improvements to their appearance by having crowns placed. When combined with a dental implant, a crown replaces the visible portion of the tooth while the implant replaces the root, resulting in a complete replacement with greater support for health and appearance.

Porcelain Dental Crowns Los Angeles
Patients who visit our Los Angeles dental crowns expert can choose from multiple solutions. Depending on the budget, health and goals of patients, they can choose between having their porcelain crowns anchored with dental implants or dental bridges. Dental bridges are less costly and work well at restoring looks and the ability to speak and chew properly. However, replacement of the tooth roots is only possible with dental implants, which help guard against jaw deterioration and its complications as a result.


Patients who receive porcelain dental crowns from our expert in dental crowns in Los Angeles can expect a lifelong solution to their missing or damaged teeth. With daily brushing and flossing, regular check-ups from our dentist and avoidance of hard foods, patients can keep their crowns in excellent shape for longer. To learn more about the benefits of porcelain dental crowns and find out if they may be the best solution for specific dental problems, patients can schedule a consultation with our female dentist in Los Angeles.