Family Dentistry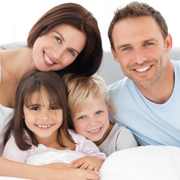 Our Los Angeles family dentistry expert offers a vast selection of treatments to patients of all ages. In addition to restoring damaged teeth, our dentist performs several preventive and cosmetic procedures that can help patients avoid oral health problems and maintain a brilliant smile.
When patients visit us for routine exams, they receive a comprehensive oral health inspection in addition to deep cleaning. Our expert in family dentistry in Los Angeles looks for signs of tooth decay, gum disease, oral cancer and other oral health issues. When necessary, our dentist may also use X-rays to identify problems that cannot be seen otherwise.
Children enjoy comfortable dental care in a relaxing atmosphere when they visit our Los Angeles family dentistry expert. To encourage children to form healthy attitudes towards dental health, our dentist is careful to avoid making children anxious during treatment. In the long term, children benefit from having a strong foundation for healthy teeth and gums.
Family Dentistry Los Angeles
Our family dentist educates children as well as their parents on the best ways of brushing, flossing and promoting healthy oral development. When treatment is necessary, our dentist takes time to explain all options. Ultimately, this information can help make patients active partners in preventing future dental problems.
Our expert in family dentistry in Los Angeles repairs damaged teeth with a full range of restorative procedures. For smaller cavities, our dentist may recommend amalgam or tooth-colored fillings based on tooth location and patient preference. Larger cavities, cracks, chips and gaps may require more extensive treatment, such as inlays, onlays or crowns. When teeth are at risk of extraction because of pulp infections, our dentist can perform root canal therapy to stop the infection and guard against future problems.
Our female dentist in Los Angeles gives all patients the highest level of care with every procedure. Whether patients need preventive, restorative or cosmetic care, they can visit our office to be treated by our dentist in a warm, welcoming atmosphere. By brushing and flossing daily and getting check-ups twice each year, area residents are more likely to have healthy teeth and gums that look and feel great.