Cosmetic Dentistry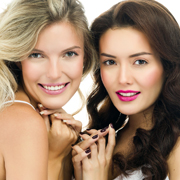 Cosmetic dentistry encompasses a wide range of dental treatments designed to help teeth look better in terms of color, shape and proportion. With options from our Los Angeles cosmetic dentistry expert, including teeth whitening, veneers, dental implants and orthodontics, patients can keep a beautiful smile throughout life. Here is more about how our dentist improves the appearance of patients.
Patients whose teeth have been stained by foods or smoking can benefit from professional teeth whitening treatment. Compared to over-the-counter whitening kits, our whitening treatment brings longer-lasting, more dramatic results in less time. Patients can choose between traditional whitening and Zoom whitening procedures. Although many patients reach their desired shade with a single whitening session, patients can opt for additional sessions to gain an even brighter smile.
Teeth that are chipped, cracked or discolored by decay can be concealed with dental veneers by our expert in cosmetic dentistry in Los Angeles. Traditional veneers are thicker than newer Lumineers, which require less preparation for placement. Because Lumineers are thinner, traditional porcelain veneers are often better for hiding heavy discoloration completely.
Cosmetic Dentistry Los Angeles
Our expert in family dentistry in Los Angeles offers several choices for replacing lost teeth. Patients can opt for dentures, dental bridges or dental implants depending on their health and long-term goals. Implants are the only option that replaces the roots of teeth, helping prevent long-term problems such as tooth shifting, jaw bone loss and gum disease. However, bridges and dentures are still effective at restoring chewing ability and appearance.
Patients who visit our Los Angeles cosmetic dentistry expert can receive discreet orthodontic treatment with Invisalign. An option for most adult patients, Invisalign is virtually invisible as well as convenient and comfortable. Compared to metal braces, Invisalign is also better for teeth because the aligners are free of brackets and can be removed before eating, brushing and flossing.
An attractive smile supports self-confidence and social success. In many cases, cosmetic treatment from our Los Angeles female dentist also helps keep the teeth healthy by guarding against future problems. Patients can explore their options by scheduling a consultation with our expert in cosmetic dentistry in Los Angeles.