Female Dentist Los Angeles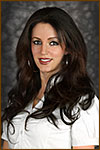 The most beautiful smiles are not necessarily the most flawless ones but are instead the most sincere ones. However, many people are uncomfortable smiling at all because they have smile flaws or untreated dental health issues. Our female dentist in Los Angeles has a warm, welcoming office environment and the latest techniques and procedures that can help you get the smile that you deserve.
We are pleased to welcome new patients to our practice. We understand that cookie-cutter solutions simply do not work in dentistry. Your smile is all your own, and we find treatments that bring out its natural beauty. Our Los Angeles female dentist offers complete dental care, including:
Family dentistry
We welcome patients of all ages to our practice and focus on dental education and practices that promote a lifetime of healthy smiles.
General dentistry
Cleanings, routine exams and preventative care are all available to keep your smile looking and feeling great. We use laser dentistry for a more comfortable treatment experience.
Restorative dentistry
Tooth-colored dental fillings and dental bonding are available to treat areas of minor damage or decay, dental crowns can protect severely damaged or decayed teeth and dental bridges and dental implants can be used to replace teeth.
Cosmetic dentistry
Teeth whitening offers a fast, easy solution for the appearance of discolored or aging teeth, and porcelain veneers can correct moderate and more severe smile flaws without the need for more uncomfortable or invasive procedures.
Mouth guards
Customized sports guards and nightguards for bruxism are both available.
Los Angeles Female Dentist
Our Los Angeles female dentist believes in making your dental experience as convenient as possible, which is why we offer appointment hours before work, after work and even on Saturdays. Each of your treatment options will be thoroughly explained, and alternatives will be explored. Digital X-rays and advanced diagnostics are available, and we offer second opinions when needed. We consider many aspects of your smile when we designed your treatment plan so that your smile is not only healthier but also more functional and attractive. Give us a call today to find out more or to schedule your appointment with our female dentist in Los Angeles.