Dental Implants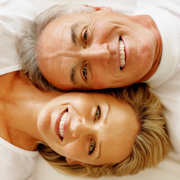 Dental implants completely replace teeth, filling the role of the roots as well as the crowns to improve appearance and support health. Depending on the preferences of patients, dental implants can be used for mounting permanent crowns or stabilizing partial dentures. Here is more from our Los Angeles dental implants expert about the benefits and placement of dental implants.


The key advantages of dental implants can be traced back to the fact that they replace the roots of teeth. Beginning soon after tooth loss, jaw bone loss takes place, eventually resulting in facial disfigurement. Teeth start to shift, causing malocclusion and creating spaces where cavities can easily form. According to our expert in dental implants in Los Angeles, dental implants can prevent these problems. For the greatest level of prevention, patients should get dental implants as soon as they lose teeth.

Dental Implants Los Angeles
Dentures and dental bridges, two alternative options for replacing missing teeth, are not anchored in the jaw bone. This means that they cannot provide the protection that dental implants offer against jaw deterioration. Unlike traditional dentures, dentures stabilized by dental implants never shift when patients eat or talk. In contrast to bridges, dental implants are placed independently of other teeth and never require drilling into neighboring teeth.


Our Los Angeles dental implants expert begins with a consultation to make a treatment plan and determine whether the patient first needs bone grafting, which can take up to a year. Placement is performed during surgery, and two to six months of healing are required afterwards. Two-stage implants also require extensions at this point and more healing. Finally, our expert in dental implants in Los Angeles tops the implants with dentures or permanent crowns.


Patients who need teeth replaced will receive the best results from dental implants. By choosing dental implants, patients with missing teeth can restore their appearance and better maintain their oral health. Some women may feel more comfortable having the procedure performed by our Los Angeles female dentist. Dental implants can last patients for life with proper care, including daily brushing and flossing and biannual check-ups.